Drive Chains
Brandt manufactures the broadest range of drive chains attachments and accessories. Every lot is tested during production to guaranty quality. Brandt Drive chains power Clarifiers, Disc Filters, Flocculators, DAF's and Skimmers, Bar Grates and Conveyors.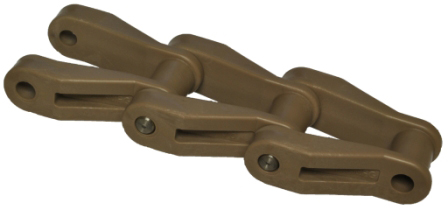 NH 78
Molded from tough and durable POM (Acetal) resin. Our NH78 chain features a 7/16" stainless steel pin that locks in both side bars for dependable service. With an ultimate tensile strength of 5,000 lbs-f and a working load of 1,800 lbs-f our NH 78 is the strongest available. Stocked in UV resistant Tan and Black colors
NH 45
NH 78's smaller cousin. NH45 chain is a good choice for applications requiring a smaller foot print.
Accessories: attachment links, extended pins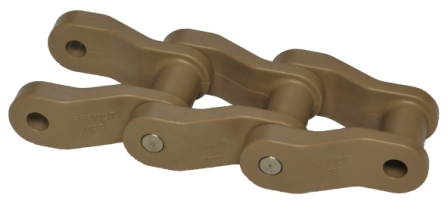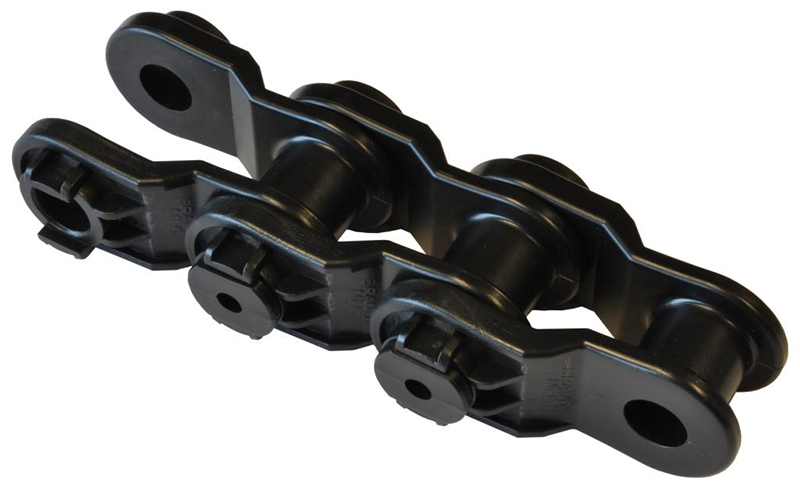 NCS 360S
NCS 360S chain is a 3" pitch chain that uses the same sprockets as 6" pitch NCS 720S chains.
Salt Water Applications
It is an all plastic Design (link and pin) ideal for salt water applications.
High Load Applications
With much larger bearing surfaces and higher ultimate tensile strength it is used in place of NH 78 or NH 82 in applications requiring 1,800-2,500 lbs-f working load.
Small Tank Applications
F2 attachment links are available for skimmer and scraper applications where NCS 720S is too large to use.
NH 78
NH 45
NCS 360S
Chain Material
POM (Acetal)
POM (Acetal)
POM (Acetal)
Available Chain Color
UV Black, Tan
Tan
UV Black
Pin Material
304 or 316 Stainless Steel
304 Stainless Steel
Glass Reinforced Nylon
Pitch
2.609"
1.630"
3.0"
Width
2.93"
2.18"
4.0"
Height
1.12"
0.87"
2.25"
Working Load
1,800 lbs-f
800 lbs-f
2,500 lbs-f
Accessories
Attachment Links, Extended Pins
Attachment Links, Extended Pins
F2 Attachment Link, Extended Pins
Technical Drawings
BRANDT NH78-attachments.pdf
BRANDT NH45-attachments.pdf
BRANDT NCS360.pdf
Pin Installation Tool
Watch Video
Pin Removal Tool
Watch Video