Roof Top NH78 NH45-C55
Roof top chains are used for side transfer applications in lumber, boxes, barrels, and extrusion.
Only the bevel tops of the links project about the guides, permitting loading and unloading to be done transversely.
Solid top improves finger safety
Made from Trilon 1000 a high molecular weight Acetal that provide superior wear resistance and toughness
Roof top is 30% thicker than other brands
Ideal for sorting tables, timber and lumber sorting.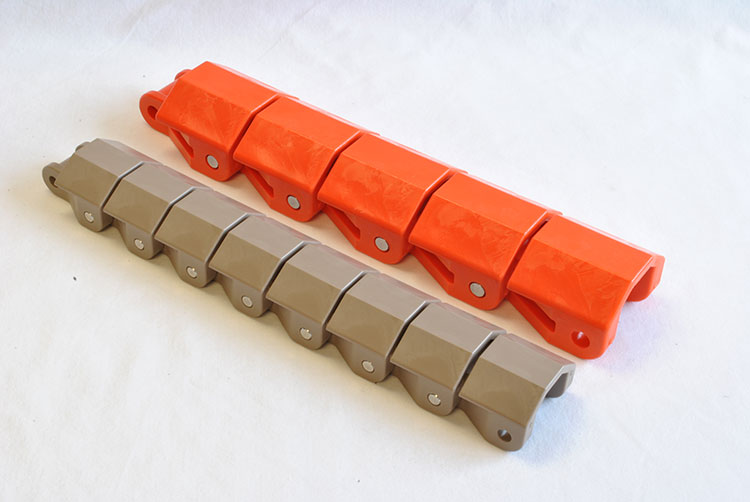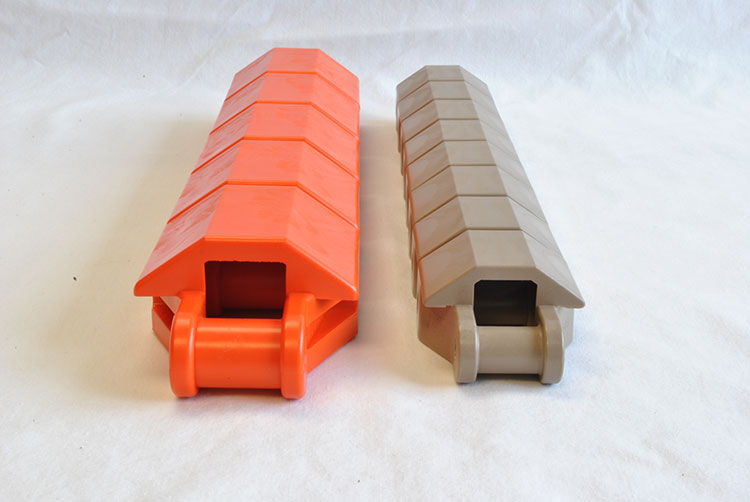 | Physical Properties | NH78-RT | NH45-RT - C55 |
| --- | --- | --- |
| Pitch | 2.609 inch | 1.63 inch |
| Width | 2.95 inch | 2.19 inch |
| Height | 1.81 inch | 1.40 inch |
| Weight | 2.0 lb/ft | 1.14 lb/ft |
| Working Load | 1,800 lbf | 1,000 lbf |
| Pin Material | 304 Stainless Steel or Zinc Plated Carbon Steel | 304 Stainless Steel |
| Colors | High Visibility Orange, Tan | Tan |
| Packaging | Any Length | Any Length |
| Sprockets | 6, 7, 8, 9, 10, 11, 12, 14 and 16 tooth available | 7, 8, 10, 11, 12, 14, 15 and 16 tooth available |
| Physical Properties | NH78-RT | NH45-RT - C55 |
| --- | --- | --- |
| Pitch | 66.3 mm | 41.4 mm |
| Width | 74.9 mm | 55.6 mm |
| Height | 46.0 mm | 35.6 mm |
| Weight | 2.97 kg/m | 1.70 kg/m |
| Working Load | 8,000 N | 4,500 N |
| Pin Material | 304 Stainless Steel or Zinc Plated Carbon Steel | 304 Stainless Steel |
| Colors | High Visibility Orange, Tan | Tan |
| Packaging | Any Length | Any Length |
| Sprockets | 6, 7, 8, 9, 10, 11, 12, 14 and 16 tooth available | 7, 8, 10, 11, 12, 14, 15 and 16 tooth available |