Flat Top 880 TAB Overview
Flat Top 880 TAB is a radius or straight running plastic chain with a stainless steel pin. Top plate thickness is 4.0 mm (0.16"). It is Tabbed and the same thickness as 820 chain for side transfer applications. Applications include food products, containers and bottling lines.
Our chains are made from Trilon 1000 a high molecular weight Acetal with wear resistant additives that provide superior wear resistance and toughness allowing it to replace stainless steel chain in many applications.
---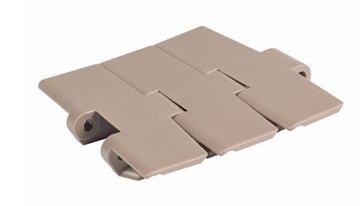 | Physical Properties | English |
| --- | --- |
| LF880TAB-K325 Width | 3.25 inch |
| LF880TAB-K450 Width | 4.50 inch |
| Top Plate Thickness | 0.16 inch |
| Nominal Tensile Strength | 506 lbf |
| Pin Material | Stainless Steel |
| Colors | Tan is standard, Custom colors are available |
| Physical Properties | Metric |
| --- | --- |
| LF880TAB-K325 Width | 82.6 mm |
| LF880TAB-K450 Width | 114.3 mm |
| Top Plate Thickness | 4.0 mm |
| Nominal Tensile Strength | 2,250 N |
| Pin Material | Stainless Steel |
| Colors | Tan is standard, Custom colors are available |
| | |
| --- | --- |
| Packaging | 10 ft. standard, any length available |
| Sprockets | 10 and 12 tooth Split Sprockets and Idlers available |