Snap-on 1843 TAB Overview
Snap-on 1843 TAB is a side flexing snap-on chain. It is designed with overlapping plastic flights assembled on a roller chain with extended pins.
It has a steel 1/2" pitch roller chain with overlapping plastic top plates. Top plate thickness 3.2 mm. It runs on standard ANSI no. 40 sprockets.
Applications include packaging at high loads and speeds. This two part design reduces noise.
---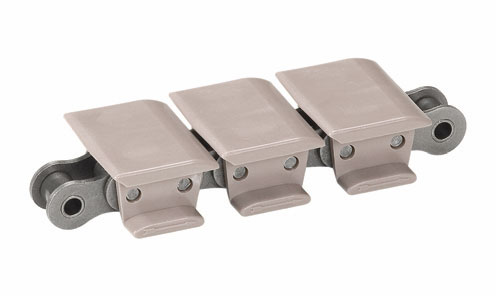 | Physical Properties | English |
| --- | --- |
| LF1843TAB-K125 Width | 1.25 inch |
| LF1843TAB-K200 Width | 2.00 inch |
| Nominal Tensile Strength | 450 lbf |
| Pin Material | Stainless Steel or Carbon Steel |
| Colors | Tan and Black are standard, Custom colors are available |
| Physical Properties | Metric |
| --- | --- |
| LF1843TAB-K125 Width | 31.5 mm |
| LF1843TAB-K200 Width | 50.6 mm |
| Nominal Tensile Strength | 2,000 N |
| Pin Material | Stainless Steel or Carbon Steel |
| Colors | Tan and Black are standard, Custom colors are available |